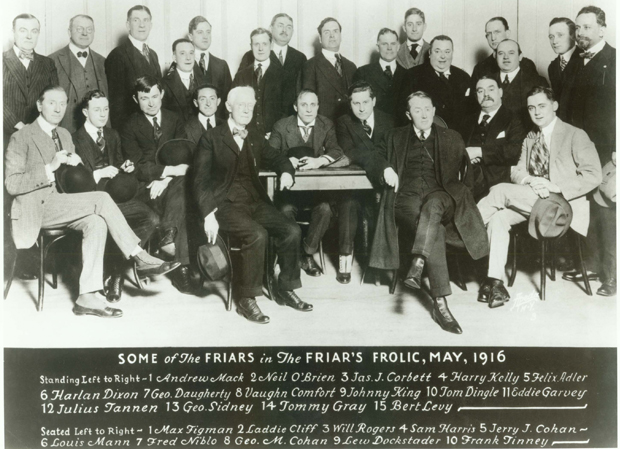 It began for the reason most collectives begin: people were getting swindled.  In this case, it was a group of wily Press Agents in turn of the century Manhattan; 1904, to be precise.  The agents dished out free tickets to reviewers for their clients' Broadway shows in exchange for plugs in the papers.  It was standard industry reciprocity, until the agents learned they were getting bamboozled by "reporters" unaffiliated with any publication.  Times Square wasn't the birthplace of the American scammer, but people like Ponzi had recently come to town and inspired all kinds of fellow con-men.
So eleven agents began meeting weekly at Browne's Chophouse in midtown to sort out who was legit and who was full of shit.  Swapping war stories bonded them around a common cause and the group became more and more tightly knit.  A blacklist was quickly disseminated and the imposters were vanquished soon there after. Yet in solving their problem, the group had also eradicated the reason for their gatherings.
It didn't take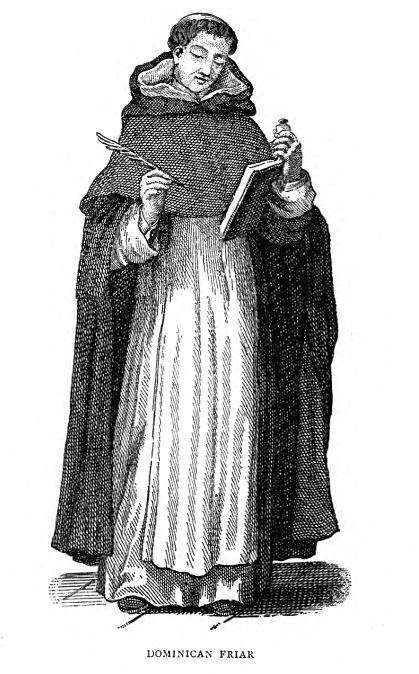 long to find another reason to meet regularly. The group had become the kind of friends that looked out for one another, and they liked celebrating that bond over good food and drink… The resulting organization was the Press Agents Association, and it wasn't long before their clients were joining their jovial get-togethers, adding the kind of color and depth only playwrights, directors, actors, comedians, magicians, singers and dancers can.
The group needed a name that encompassed their diversified band of artistic brothers.  The term friar stems from the Latin "frater", meaning brother, and thanks to dramatists like Shakespeare (and Trappist monks who had been perfecting beer recipes since 1098), these brothers adopted the long maintained tradition for intelligent, if not always benevolent mischievousness.
There were older, more prestigious social institutions in the city, but none were quite as engaging as the newly formed Friars. Mingling with Manhattan's entertainment illuminati was a plus, but the club's real value was found in the camaraderie of common interests. Prae Omnia Fraternitas, Brotherhood Forever, became their motto.
The troupe began honoring its own with Bacchanalian dinners featuring talent drawn from their deep pool of entertainers. A New York Tribune headline from 1910 read, "FRIARS KID MR. HARRIS: Veteran Theatrical Manager Butt of Jokes at Dinner."  The dinners bloomed into an exclusive event, and first formal "Roast" went down in 1949 with none other than Maurice Chevalier as the guest of honor. It was obscene, unedited, outrageous and side-splitting. The Friars soon coined another motto: "We only roast the ones we love."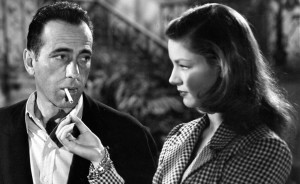 Like all fraternities, the club was exclusively male, but it didn't stop members from wining and dining their better within its hallowed halls. During the club's early history, several women were invited to, and even honored at, the club's Testimonial Dinners.  The Roasts, however, remained stag, a fact that didn't thrill Lauren Bacall when they Roasted her husband, Humphrey Bogart, in 1955. Bacall sent in an audiotape which was unapologetically played during the meal. "This is Lauren Bacall, the uninvited guest, you rat bastards…"
When the Friars roasted Lucille Ball in 1962, Roastmaster Johnny Carson began the evening with by admonishing the crowd. "We have a lady present and we need to treat her like one." He then introduced her as "Lucille Testicle."
In 1983, Phyllis Diller couldn't contain her curiosity any longer. She dressed as a man and snuck into the cloistered Sid Caesar Roast, noting that, "It was the funniest and dirtiest thing I've ever heard in my life."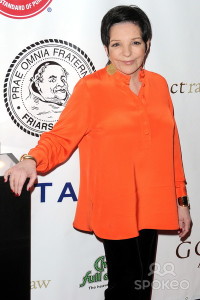 In 1988, Liza Minnelli, smashed through the club's Tiffany ceiling, by becoming the first official card-carrying female Friar.
The club itself called several locations in midtown town, before settling in their current edifice on 55th street, built in 1909 by Martin Erdmann, an investment banker. He engaged the architectural firm of Taylor & Levi to build his urban estate. When completed a year later, the five-story English Renaissance tudor was considered a daring and clever work by critics.  (And is currently being proposed for Landmark Status.)
The vaulted ceiling of its marble entrance hall immediately establishes a regal tone.  As does the detail of carving in the cherrywood walls and the stalwart railings along the multiple spiraling staircases.  The Erdmann Residence formally opened as the Friars Club Monastery in November 1957.  A building fit for a king, now in the hands of its lunatic court jesters. In a grand gesture, Abbot Joe E. Lewis flung the keys to the front door into the street to symbolize that the doors would always be open.
The building's deed forbade the establishing of such "nuisances" as livery stables, breweries, tanneries, blacksmith shops, glue factories, vitriol manufactories or others of equally noisome character. The irony is that since acquiring the building, almost all of the above has gone down, in one form or another, within the clubs sometimes joyfully desecrated halls.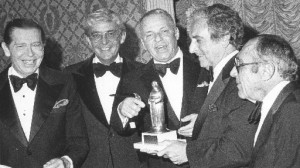 It's cadre of members, which has expanded far beyond the boundaries of entertainment professionals, continues to grow.  Some famous ones, past and present, are listed below: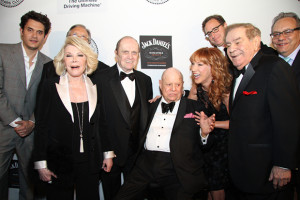 COMEDIANS: Jerry Lewis, Jack Benny, Bob Hope, Milton Berle, George Burns, Lucille Ball, Sid Caesar, Phyllis Diller, Redd Foxx, Red Buttons, Buddy Hacket, Don Rickles, Carol Burnet, Carl Reiner, Rich Little, Bob Newhart, Freddy Roman, Joan Rivers, Richard Prior, Lily Tomlin, Cheech Marin, Billy Crystal, Chevy Chase, Robin Williams, Lewis Black, Janine Garafalo, Jerry Seinfeld, Lisa Lampanelli, Sara Silverman, Jack Black.
ACTORS: Douglas Fairbanks, Will Rogers, Cary Grant, Elizabeth Taylor, Humphrey Bogart, Kirk Douglas, Ernest Borgnine, Candice Bergen, Elliot Gould, Elaine Stritch, Abe Vigoda, Richard Dryfuss, Robert Deniro, Morgan Freeman, John Travolta, Danny Devito, Roger Moore, Bill Murray, Pierce Brosnan, Tom Cruise, Sam Jackson, Alec Baldwin, Don Cheadle, Angelica Houston, Bebe Neuwirth, Bruce Willis, Rosario Dawson.
MUSICIANS: Oscar Hammerstein, Irving Berlin (composer), Frank Sinatra, Sammy Davis Jr., Barbra Streisand, Perry Como, Liza Minnelli, Tom Jones, Tony Bennett, Diana Ross, Nat King Cole, Frankie Valli, Natalie Cole, Art Garfunkel, Elvis Costello, Allen Toussaint, Debbie Reynolds, Aretha Franklin, Dave Boyd (Dave Matthews Band), Clive Davis (music producer).
TALK SHOW HOSTS: Ed Sullivan, Johnny Carson, Ed McMahon, Dick Cavett, Joe Franklin, Howard Stern, Sally Jessy Raphael, Regis Philbin, Matt Lauer, Kathy Lee Gifford, Al Roker, Jimmy Kimmel, Jimmy Fallon.
CHEFS: Drew Nieporent, Padma Lakshmi.
NEWS: Walter Cronkite, Davd Brinkley, Barbara Walters, Edward R. Murrow, Mike Wallace, Bob Woodruff, Diane Sawyer, Chet Huntley, David Brinkley, Larry King, Brian Williams, Ernie Anastos.
WRITERS: Neil Simon, Elie Wiesel, Jules Feiffer, Tom Fontana, Evan Hunter, Marc Eliot, Nelson DeMille, Sam Denoff, Alan Zweibel (SNL).
DIRECTORS: Joel and Ethan Coen, Quentin Tarantino, Rob Reiner, Eli Roth, Brett Ratner.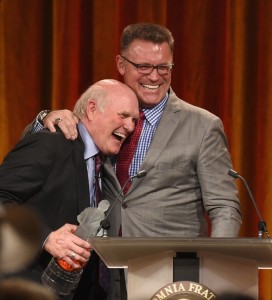 SPORTS FIGURES: Rocky Marciano, Rusty Staub,Joe Dimaggio, David Cone, Howard Cosell, Goose Gossage, George Foreman, Tiki Barber, Boomer Esiason, George Steinbrenner, Adam Graves, Walt Frazier, Willis Reed, Keith Hernandez, Magic Johnson, Don King, Bob Arrum (promoters)
ENTREPRENEURS: Carl Icahn, Steve Tisch, Michael Waldorf, Hugh Hefner, Donald Trump, Carlos Slim, John Catsimatidis.
POLITICIANS: Henry Kissinger, David Dinkins, Michael Bloomberg, Woodrow Wilson, Calvin Coolidge, Ronald Reagan.